This search contains ALL residential properties that are available in the entire metropolitan region of Vail Colorado (that are a part of the Vail Multiple Listing Service (MLS) Internet Data Exchange (IDX)). Click to search the city of Vail only.
| | | |
| --- | --- | --- |
| All Listings | Under $100,000 | $100,000-$200,000 |
| $200,000-$300,000 | $300,000-$400,000 | $400,000-$500,000 |
| $500,000-$600,000 | $600,000-$700,000 | $700,000-$800,000 |
| $800,000-$900,000 | $900,000-$1,000,000 | Over $1,000,000 |
Search ALL Vail Colorado By Property Type:
Refine your search by bedrooms, baths, acres, age, fireplace, etc with our Advanced Vail Listing Search.

Search Vail properties by Map
Pitkin County Colorado Real Estate - search all real estate listings in Pitkin County, CO
Eagle County Colorado Real Estate - search all real estate listings in Eagle County, CO
Vail Ski-In / Ski-Out
ALL Vail Ski In Ski Out - all homes and condos in the entire metropolitan area
Vail is located in Eagle County and has several neighborhood, community and "pocket" parks with incredible custom-built children's play areas. Other community amenities are the Betty Ford Alpine Gardens, Colorado Ski Museum, Vail Gymnastics Center, Gerald R. Ford Ampitheater Vilar Pavilion, Dobson Ice Arena, Vail Public Library, Vail Nature Center, Adventure Ridge at Eagle's Nest, Vail Tennis Center, Vail Memorial Park, Vail Golf Club, Whitewater Park and more. For those who enjoy fine dining and nightlife, Vail has over 100 world class bars, restaurants, and nightclubs. With its myriad of retail shops from galleries and boutiques to jewelry and specialty sporting goods stores, Vail is sure to satisfy shoppers of diverse interests. Possessing all the quaintness and charm of a small mountain town combined with all the convenience and amenities of a large scale metropolis, Vail offers a unique lifestyle and experience to both visitors and residents alike. The Vail real estate market is quite busy and the homes for sale change regularly. If we can assist with your home buying needs, please notify us.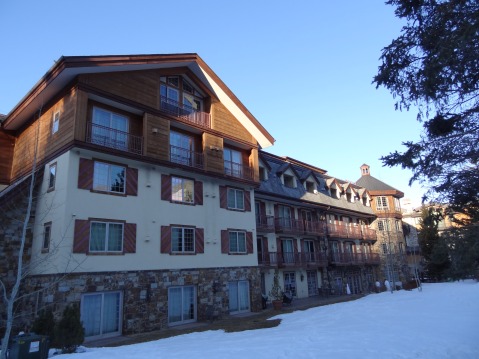 For first time visitors to Vail, there are many easy to find signs and maps throughout the Villages that make getting around very easy.