SUMMER / YEAR ROUND ACTIVITIES
Snowmass features a variety of activites which can be enjoyed throughout the year. Free concerts, white water rafting, horseback riding, and back country jeep tours are among some of these. The mountain has miles of hiking and biking trails which can be reached via the Elk Camp Gondola. The ACES (Aspen Center of Environmental Services) runs mountain ski tours and nature trail hikes. Those who enjoy defying gravity will be able to participate in rock climbing, hot air balloon rides, and eurobungy. The Snowmass Village Recreation Center has aerobics classes, pools, and an indoor gymnasium. Silver nugget digs, obstacle courses, and a 5 day a week activity schedule offer excellent opportunity for kids. There is storytelling at the Snowmass Ice Age Discovery Center. No matter what time of year you choose to visit Snowmass, you are sure to find a plethora of fun for the entire family.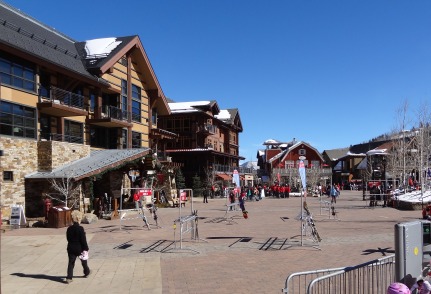 Land which was originally used for ranching was repurposed and divided into lots for housing when Snowmass was developed as a ski resort in 1966 by DRC Brown and Bill Janss. The Snowmass Golf Club has been expanded and redesigned several times. Renovations and additions have taken place in many of the village's existing facilities. Guests and residents of Snowmass can expect ever improving comfort and quality of service. Offering excellent ski and snowboarding opportunities as well as year round activities, Snowmass is a highly sought after place for tourists, part time and full time residents. Old Snowmass real estate is quite popular among ski enthusiasts and offers some excellent opportunities for persons that want to buy one of the homes for sale in Colorado.