Aspen has some of the most exclusive real estate in the USA. Even the mobile homes for sale in Aspen may be considered by a lot of persons as expensive....and for good reason. Aspen is home to one of the most desirable skiing, snowboarder and snowsport destinations in the world. Aspen features ski in ski out homes, town homes, condos with world class amenities, and lots where custom homes can be constructed. In recent times, the number of home sales in Aspen has risen along with the price of single family homes and land. Those who have been considering selling real estate in the region will be able to take advantage of these current market trends. Interval (fractional) ownership of properties in Aspen is available as an alternative to ownership by conventional means. Buyers can find the home they've been looking for while the price and inventory is still available. Whether searching for a vacation home, second / third home, or a permanent residence, Aspen makes a terrific choice.
GENERAL
Here's a fun fact: everyone knows that Aspen was named because of the Aspen trees in the area. But most persons don't know: Most people think that the "trunks" of Aspen trees are the trees themselves. This is not so. The actual trunk and root system is located underground and what is visible above the surface are actually branches of the main tree. Aspen trees multiply and grow at exponential rates and it is quite impressive to see groves of these fascinating trees together.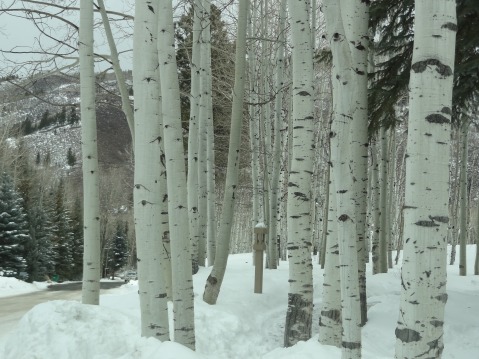 Aspen Colorado, located in Pitkin County, is home to 4 fantastic mountains for skiing and snowboard enthusiasts: Aspen Mountain, Aspen Highlands, Buttermilk, and Snowmass. To view homes that are available in the metropolitan area, try our ALL Aspen Real Estate Search. Aspen was begun as a mining camp during the Colorado Silver Boom in the late 1800s. It is surrounded by the White River National Forest and has an elevation of nearly 8,000 feet (2,400 m) above sea level. Today, it has a population of approximately 6,800 permanent residents and is a world class ski and recreation area. Originally called "Ute City", its name was later changed to Aspen due to the large amount of aspen trees in the region. The city is located in Pitkin County, Colorado along the Roaring Fork River in the Sawatch Range of the Rocky Mountains. State Highway 82 runs east and west throughout Aspen, providing convenient transportation to locations such as the Aspen Valley Hospital, Downtown Aspen, and the Aspen-Pitkin County Airport (also known as Sardy Field). In 1946, the Aspen Skiing Corporation was formed by founders Friedl Pfeifer and Walter Paepcke with the idea of developing Aspen into a ski resort town. Almost instantly, it became well known after opening with the longest ski lift in the world. In 1949, the Goethe Bicentennial Convocation was held in Aspen giving it worldwide exposure with the attendance of artists, musicians, and international leaders. With the addition of the arts and a varied cultural mix, the "Aspen Idea" was formed by Paepke with the goal of nurturing mind, body and spirit. Snowmass, Buttermilk, and Aspen Highlands were added throughout the 1950s and 1960s to bring its total number of ski areas to four (including Aspen Mountain). Later, Aspen became known as an international hot spot for the rich and famous with notable residents such as billionaires David and Charles Koch and celebrities like Michael Jordan, Mariah Carey, and Donald Trump.
SUMMER / YEAR ROUND ACTIVITIES
Aspen has a variety of activities to enjoy all year round. For those who prefer the outdoors there is softball, mountain climbing, hiking, and biking. Watersports, such as fly fishing, boating and para-sailing are also very popular. Hunting and shooting are local favorites with everything from skeet shooting to large game hunting. For persons who enjoy the indoors or who wish to temporarily take a break from the outside but still wish to participate in athletic activity there is the Aspen Athletic Club. The Aspen Art Museum, the Wheeler Opera House and Aspen Music Festival provide musical, dance, and artistic entertainment. Hot air balloon rides are an enjoyable way to get a one of a kind view of Aspen. Whether visiting for the warmer months or staying in the city year round, there is no shortage of wonderful things to do.
Even dogs love Aspen! Some faithful dogs waiting patiently for their owners in downtown Aspen outside one of the hotels.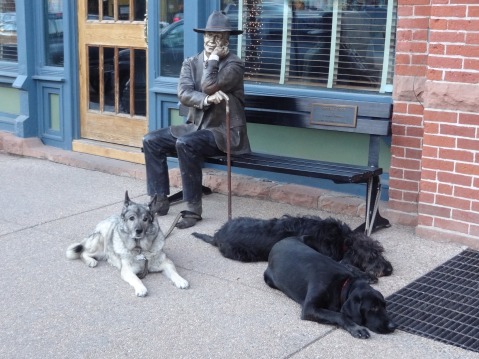 And one last fun item: a Ferrari makes a great winter vehicle. It is not uncommon to see owners driving them around town to the various ski resorts in Aspen Colorado.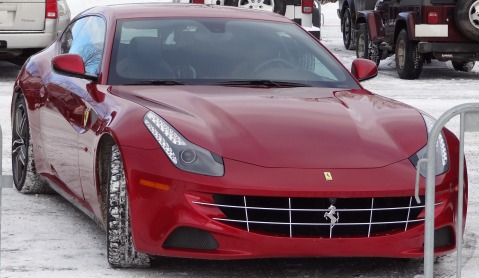 SUMMARY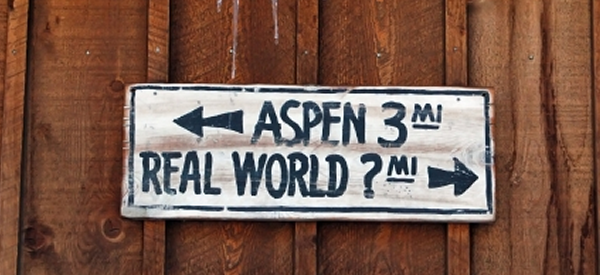 Aspen Colorado is one of our favorite ski resorts. It has what we like to call (ironically enough) a "real European feel" to it. And while some may try to attribute that to the international visitors that frequently come to Aspen, it goes beyond that. The town itself is pedestrian friendly, has a European decorum and offers public transportation to help keep down traffic by providing a free shuttle service anywhere in the immediate area. Because of this, you rarely would have need for a car to get nearly anywhere in town during ski season.

Moving on to the Aspen real estate side of things, ski chalets are where its at in Aspen. Some of the best ski properties anywhere in the world can be found here. Aspen Colorado ski homes and chalets are truly something to behold. The most desirable luxury ski properties can fetch in excess of $50 million. Luxury Aspen ski homes are relatively "common" and dot the various ski runs and trails around the 4 mountains in the area (Aspen Mountain, Buttermilk, Snowmass, and Aspen Highlands). And even though some homes may appear relatively modest from the outside, prices are likely to be more than you'd expect. Aspen's desirable community has driven up land prices significantly [a few million dollars for a lot in a decent location is not unusual]. And if you want a prime location near a ski trail so you can enjoy the amenity of having a ski in / ski out Aspen home, then prices can go up quite quickly as there is simply far more demand than there is availability in the area. However, its not entirely millionaires and the jetset here. There are options for those persons that are more budget conscious, but you can expect that it will be further out, and it certainly won't be in very close proximity to a ski in / ski out home. In lieu of a home, Aspen condos are a great option that can provide good locations within less than stratospheric prices. If you can afford it, and want the best ski homes in the world, in our opinion, Aspen CO is #1 on our list. It simply offers the best of all worlds.